Done right, a winter wedding can be a magical affair. The crisp air, snowy backdrops and still air can make celebrating a union extra special. But, with the winter weather, your wedding planning needs to include some careful consideration of the needs of your wedding party and guests to make sure the event is a cosy one. By following these simple tips, you can transform a good wedding into a great one and keep everyone as joyful as you feel on the big day.
Stick To One Venue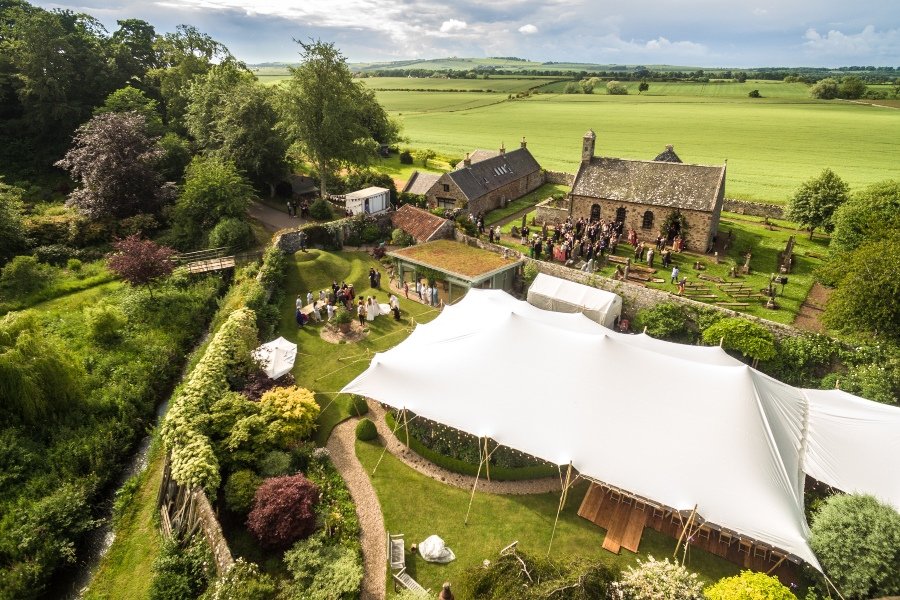 Many weddings have one location for the ceremony and another for the reception. For winter weddings we recommend trying to have all parts of your wedding in one place since icy roads and cold weather can slow down guests travelling between, not to mention car trouble or other transport issues.
Venues like stately homes are great for winter weddings since they often have event spaces, churches or great ceremony spots on the grounds. If you are going to choose a single venue then it's worth scouting what is in the area or how you can use the space to avoid travel, such as using a stretch tent in a garden for your reception if you have a place for the ceremony, or vice versa.
Get The Heating Sorted
A lot of venues will have heating systems, especially hotels and houses that often have events. But for more country locations, like old barns, marquee tents and similar, you'll need to think about how you are going to heat the space, and the area around it.
For large open space, fan heaters are a great way of adding warmth to a cool or drafty space quickly. This works well in village halls, stretch tents and the like. With weddings tents and heated buildings, you might also want to create some warm areas outside so that when guests want to get some fresh air they don't freeze. Overhead heating lamps are great for this and can be positioned in key places, such as around stand tables.
Hire A Hot Drinks Bar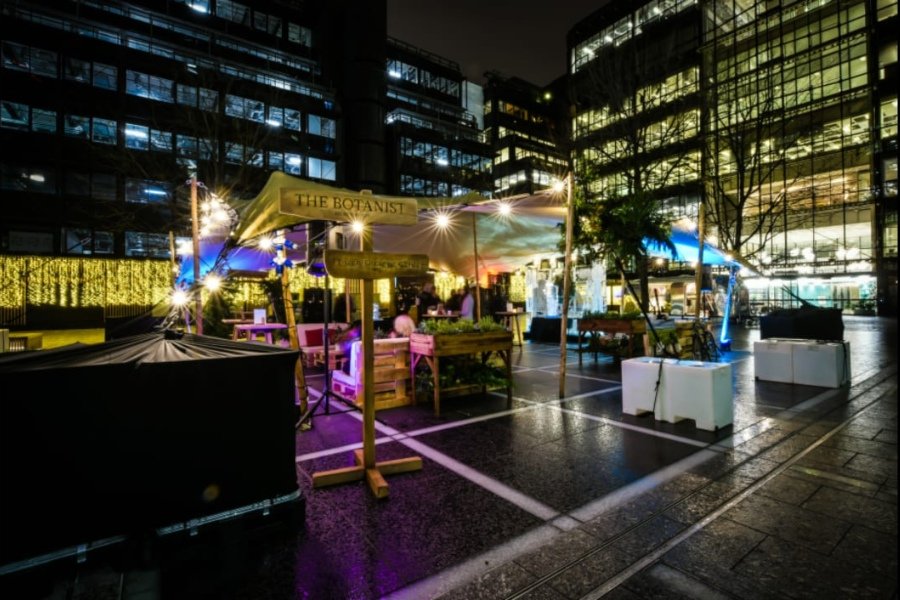 Arrival drinks are to be expected but what if, for you winter wedding, you offered a hot drinks bar. We're talking winter warmer cocktails like a hot toddy, or offering mulled wine or mulled cider to guests during your wedding. This is great for outdoor weddings too as the cool air and piping hot beverages will pair perfectly, allowing you and your guests to enjoy the fresh air and stay cosy. For the non-drinkers, or after your meal, there is the classic tea and coffee servings.
Yes, tea and coffee servings are a good way to keep your guests warm but with a winter wedding you can level up your offerings. You could offer an Irish Coffee or shot of liqueur with the evening coffees. Alternatively, a hot chocolate station is one way, offering a selection of toppings or providing toasty mugs on arrival to guests of your reception. Making the serving special is a great way of making your wedding a uniquely memorable event too.
Offer Blankets Near Seating
For winter wedding ceremonies taking place in older buildings, like churches, or outdoor spaces, you should consider offering blankets to guests. These can be positioned in stylish baskets near to the entrance ways or wherever there is seating for meals with neat signs exclaiming "Help Yourself". This way, guests who feel they need an extra layer can wrap up. Remember that guests might not feel that cold when they arrive if they are wrapped up in warm coats but sitting still even for a little while in winter will soon have them reaching for a blanket.
When planning seating, it's also worth considering if you need cushions for the seats. A cool wooden chair may need a plush cushion to warm it up and make the experience of a winter wedding a little more comfortable.
Choose The Right Night Lighting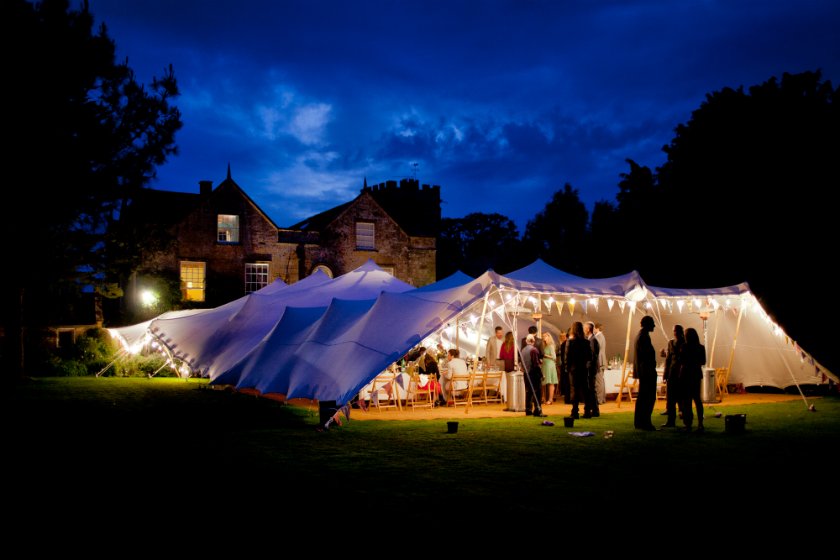 Great lighting will add to the ambience of your winter wedding and create the kind of cosy, intimate atmosphere that you want to encourage. In inside spaces, you'll likely have a couple of lighting options, from the main room lights to add in light sources, like candles. Outside, lighting will be minimal so you'll need to choose options that work for different instances.
There are lots of options when it comes to lighting and it is particularly important in those months where the sun only pokes out for a few hours each day. Some options for lighting include:
Fairy lights – perfect for any and every space. These elegant, magical little lights offer a soft illumination and work well outside to add a seasonal flair.
Festoon lights – more robust than fairy lights, they are the perfect party lights for tents, barns and halls, all large spaces that needs a bolder light that doesn't overwhelm the space.
Uplights – these are bright, bold and often colourful. They can be used to create colourful illumination for guests outside of a tent, within a barn or village hall and outside a stately home.
Candles – small candles are adorable but might not really make much of an impact in the dark evenings of winter. Instead, use pillar candles on tables to provide focal points for table displays and a warm glow to a space. Encase in glass holders to avoid the flames going out in a breeze, if outside, and from being knocked easily.
Wear Secret Layers
You have the perfect dress or suit on and are ready to go, but you're worried about getting too cold on the day. Your winter wedding isn't going to be cooler than most so you should be prepared with some additional layers. This can come in the form of jackets in thicker fabrics or wraps to protect exposed skin. It can also be secret layers under your outfit, like tights, leggings and undershirts. You won't be able to see them from the outside, but they'll keep you cosy when you are taking snaps with your wedding photographer by the picturesque winter views. You can also keep hand warmers in pockets or with other members of the wedding party for a little heating up on the fly.
Enjoy Your Winter Wedding
Winter weddings can be magical events. Whether you choose to use a snowy backdrop for a simple exchange of vows, or go for a full winter fantasy with carriage rides and ice sculptures, you can create a cosy, memorable wedding by following these tips. Do that and you'll make your winter wedding as enjoyable an event as its looks in the photos you'll cherish for years.