Wedding Marquee Uses
Wedding marquees are suitable for all kinds of celebrations and can be outfitted in a variety of ways to complement your wedding theme and palette. A few ideas for how to use a stretch tent as your wedding marquee include:
For The Wedding Ceremony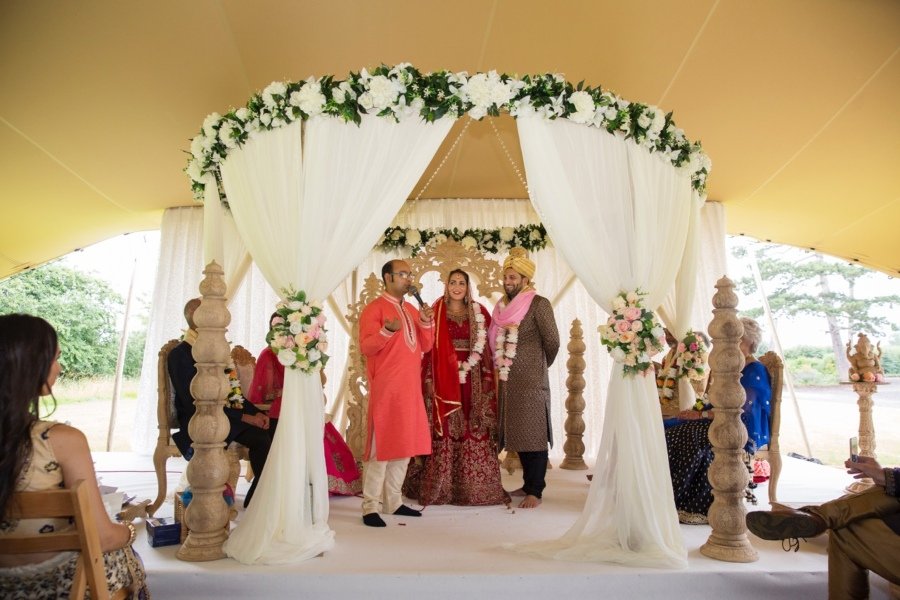 You can use a stretch tent to create a beautiful space for the ceremony of an outdoor wedding, such as in the grounds of a stately home or a country estate.
Like with marquees, you can easily use a stretch tent to cover the whole seating and ceremony area. While traditional wedding marquees are quite limited, stretch tents offer you the option of having the sides up or down.
With sides down, you can keep in the warmth during autumn and winter weddings. Having the sides up allows for air flow and a view of the stunning surroundings during spring and summer weddings.
For The Wedding Breakfast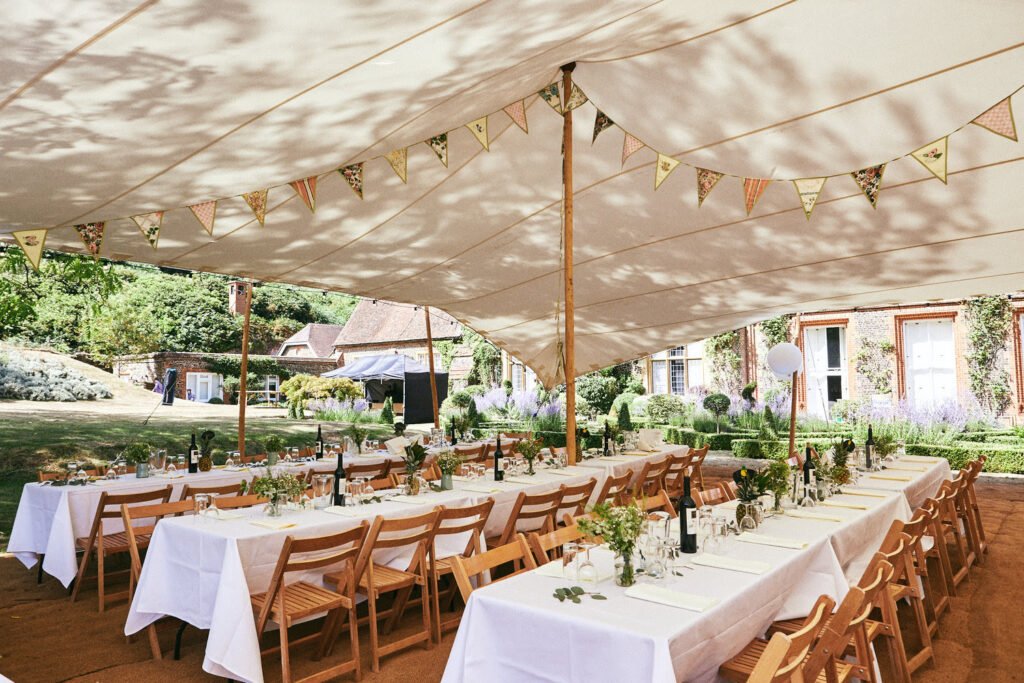 For country weddings and summer weddings, you may want to make use of a wedding marquee for your wedding breakfast. Stretch tents can be set up in advance – our team will set up and close down your stretch tent hire around your celebrations – and outfitted with tables, chairs and even a stage for the wedding party or for speeches, including any audio equipment needed.
If your wedding venue has a kitchen nearby, your stretch tent can be set up within easy reach. Alternatively, you can use another stretch tent nearby for the catering team.
For The Wedding Reception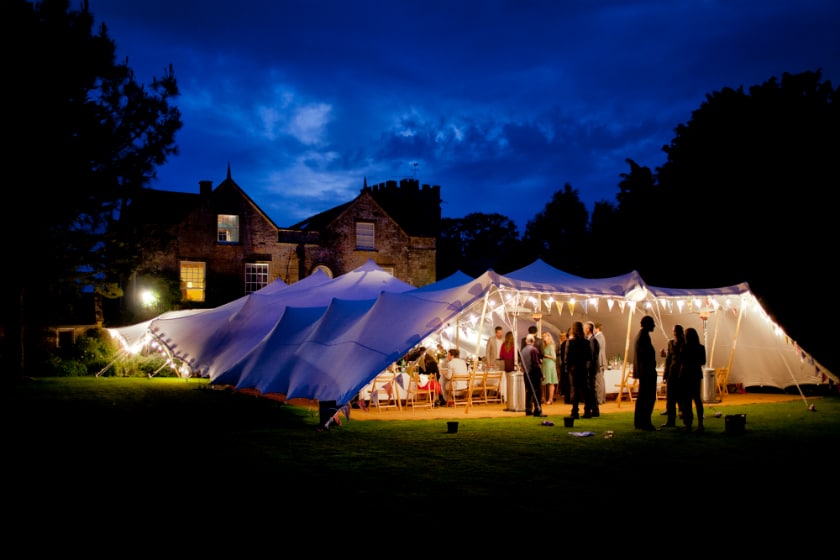 Wedding marquees are a fantastic way of creating an area for your wedding reception. For weddings during colder months, a wedding marquee is a great way of creating a bigger space to dance the night away with your expanded guest list. For summer months, you can use a wedding marquee as a breakout area, with soft seating, perhaps with a bar and buffet table for late night nibbles.
Stretch tents are ideal for wedding receptions as they can fit into any space, no matter how big or small, and they can be designed to fit around stages, audio equipment, bars and even structured to create a set of different areas under one roof.
How Does Wedding Marquee Hire Work?
If you are interested in wedding marquee hire, we would suggest getting in touch with our team to discuss your needs. We can then make recommendations for how a stretch tent would work for you and give an idea of costs.
When considering wedding marquee hire, the key variables to keep in mind are:
Venue – where you want to place your stretch tent. Knowing this helps with designing how your stretch tent will work for your wedding.
How you plan to use it – this will enable us to make recommendations for features and equipment for your tent, such as tables and chairs, lighting, etc.
Number of guests – a rough estimate is enough to give us an idea of the size of stretch tent that you will need, but an accurate number is best to ensure you have enough room for everyone.
Using Small Wedding Marquees
Small wedding marquees are perfect for intimate celebrations. Stretch tents are so flexible they can be used to create areas to hold 50 person weddings or 15 person intimate wedding breakfasts.
If you are considering a micro-wedding, stretch tents can even be set up in small venues, like your garden, to create a magical, special space to celebrate your union.
Using Large Wedding Marquees
Large wedding marquees are an excellent way to accommodate a big guest list, particular for wedding receptions where you have extra evening guests arriving.
Stretch tents are used to create large, open-plan areas, or network together to create a series of spaces under which to hold your wedding. If you are looking to craft a wedding in a field, forest or on a beach, stretch tents can be set up to create cover or a completely private space for your wedding celebrations.
Wedding Marquee Hire Prices
Wedding marquee prices vary quite considerably. They are primarily based on:
The size of your wedding marquee
The length of hire
Additional features/extras
At Stretch & Tents we provide quotes based on your specific needs, ensuring you only pay for what you need and nothing more. The more information you provide on enquiry, the more accurate your quote will be. We also offer packages with décor and equipment if you want to keep your wedding as simple as possible.