Lighting
Lighting is a key element of your wedding tent decoration, both inside and outside your stretch tent.
Practically, you want interior lighting that works in the daytime and that can transform into a warm glow in the evening and then move into party mode at night. You'll also want to use outdoor lighting to signpost your wedding tent and the paths to/from facilities – such as toilets or parking.
There are lots of lighting options to choose from and often you'll want to use more than one variety to achieve the ideal effect.
Festoons
Bright and bold, festoons are large bulb string lights. Festoons are a classic choice for a wedding tent. They are ideal for lining the edge of your wedding stretch tent to mark entrances or to show the perimeter of your tent if you have the sides up, such as during a summer wedding.
Fairy Lights
These small twinkling lights can be used on an industrial scale with a wedding tent. String fairy lights can be used to add a soft glow but often are more decorative than practical. They work well wrapped around tent poles or curtain fairy lights can be draped over panels or walls to create a feature. Fairy lights are also a great choice for stage backdrops or behind bars within your stretch tent.
Uplighters
Uplighters are made for dramatic, bright lighting. If you want to ensure your space is well lit then make sure to include uplighters in your wedding tent decorations. They are available in white and a variety of colours, allowing you to create the right ambience.
Uplighters can be placed around the edge of your stretch tent on the inside and/or outside. They are ideal for uplighting trees and creating mood lighting around your tent.
White uplighters are a great choice for inside your tent if you are hosting your ceremony inside. Coloured uplighters can be used to set the mood, matching your colour theme, for a wedding breakfast or reception. Uplighters are often popular outside stretch tents as they provide excellent illumination at night.
Disco Balls & Lights
Be party ready with disco balls and disco lights. For wedding receptions, a disco ball is the ideal lighting to set the mood and get the party started. Alternatively, sets of disco lights can be placed around your stretch tent to add pops of colour when night falls.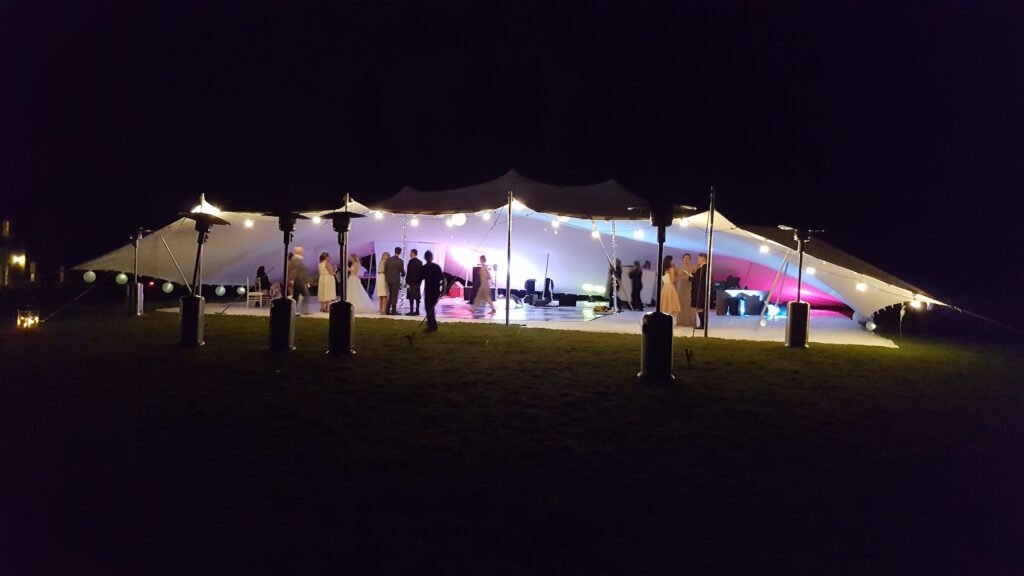 Flooring
Flooring isn't the first thought people usually have when considering wedding tent decorations. But flooring choices are a key part of the design of your space. It helps to think about what you are using your wedding stretch tent for: your ceremony, your wedding breakfast or reception.
Flooring is also important for your and your guests' comfort. The ground your stretch tent sits on won't necessarily be flat, and it may not be suitable for all footwear – high heels on grass is a big no. The right flooring will mean your guests can mix-and-mingle or dance the night away with ease.
Coconut Matting
Coconut matting is a great choice for eco, festival style or country chic weddings. Coconut matting is soft but firm underfoot and can be used to cover the entire interior area of your wedding stretch tent. If you want a one-flooring-fits-all choice for your stretch tent, this is the way to go.
You can also consider using coconut matting for walkways between areas outside of your wedding tent, such as to/from toilets, or to designate paths between a main house and your stretch tent at a stately home wedding – matting can help protect the grass too.
Dandy Dura
Another natural flooring, with a more high-end look and feel compared to coconut matting. Dandy dura's weave will work for rustic weddings, summer celebrations and shabby chic nuptials. Dandy dura is also good for lounge seating areas at wedding receptions.
Cord Carpet
Cord carpeting is the most formal of the soft texture flooring options. It offers more colours and textures to choose from than coconut matting and dandy dura, as you would expect from carpeting.
This type of flooring can be used throughout a wedding tent but is often used to designate lounge areas since it has a more relaxed look, particularly when used alongside wood flooring. The gapless material also makes it more suitable for use as flooring during wedding ceremonies and receptions since there aren't small holes that heels can easily get caught in.
Hard Wood Flooring
Hard wood flooring gives a traditional look to a stretch tent, making it a fantastic choice for classic and elegant celebrations. Among the wedding tent decoration options, it is the best way to emulate a traditional indoor wedding in your custom outdoor space.
Hard wood flooring provides a solid base for tables and chairs, making it a great choice if you are using your wedding tent for your wedding ceremony or breakfast. Our beautiful, handmade wood flooring is raised to create a level flooring under your stretch tent.
Dance Floors
For wedding receptions, a designated dance floor area is easily marked with oak parquet or blank and white check flooring. These dance floors can be used to cover a section in the middle of your wedding tent or at the side. It's up to you and how much dancing you are planning to do – from the marrying couple's first dance to a full family and friends ceileigh.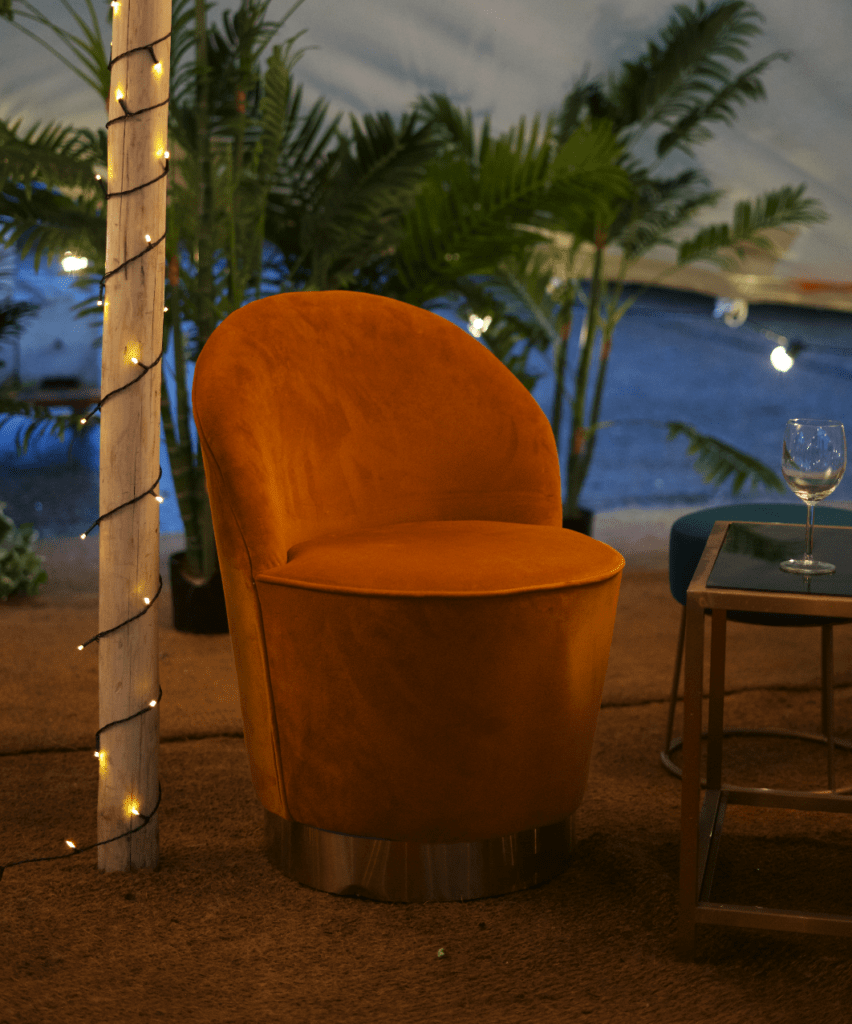 Seating: Tables & Chairs
When thinking about tables and chairs, consider how you plan to use your wedding tent and what kind of seating your guests will want. Some guests might need softer seating during a ceremony. You may also want to include tables and chairs at a reception if you are serving late-night bites.
Chairs
There are lots of choices for bulk sets of chairs, from simple folding chairs to cross-back and chiavari chairs. Folding chairs are useful if you plan to use your wedding tent for multiple parts of your wedding, perhaps going from ceremony to reception, where chairs can be pushed to the sides post-nuptials.
You can use rows of chairs for guests at a ceremony under your wedding stretch tent or as dining tables at your wedding breakfast. Neutral tone chairs can be used as they are, or decorated with covers, bows or flowers to match the theme of your wedding and the other decorations in your stretch tent.
Benches
Rustic wood benches are an alternative seating option for a wedding ceremony in a stretch tent, though it's worth being aware they will offer less support (as they are backless) than chairs if guests will be seated for a long ceremony.
Benches are often a good choice when paired with long tables and used at festival-style stretch tent weddings or at wedding receptions with food trucks where not everyone will be dining at once.
Lounge Seating
The versatility of stretch tents means separate areas can be created within the tent, including soft seating areas. These can be placed in a corner of your wedding tent, or lined along one side in view of a dance floor or stage at wedding receptions.
Designing your lounge seating area can involve a combination of different seating choices:
Rattan furniture sets – a pop-up living room set-up with sofas, chairs and footstools.
Whisky barrel chairs – an unique chair to add a little extra style to your wedding tent.
Tub chairs – for more upscale and elegant stretch tent weddings, you might want to choose these colourful, velvet tub chairs.
Alternatively, you can use rugs and cushions to make a more informal lounge area.
Tables
There are lots of table options to choose from. These range from traditional wedding layouts using sets of round tables or a few long tables within your wedding tent, to a more relaxed, festival-style setup of benches or bar stools if not everyone is dining at once.
Dining Tables
For dining tables there are few options:
Round folding and trestle tables – Ideal if you are using table cloths to cover these rather plain tables. These are easy to set up and put down.
Rustic tables – Wooden rustic tables are perfect for a country wedding. These tables don't need tablecloths and placemats can be used to indicate assigned seats.
Banquet tables and German beer bench sets – Great for large groups and seating areas at festival style weddings in stretch tents. You can use these in long rows to create communal dining areas.
Lounge Tables
Lounge areas can be decorated with side tables to give your guests somewhere to place their drinks. Small and low tables are available in metal or wood to suit your wedding style.
Wedding Reception Tables
Tall, standalone table options are available and can be used for the wedding reception, when guests will be mingling, or for areas outside your stretch tent.
Barrels can be placed around the interior of your stretch tent or outside. They provide a stable, hard-to-miss place for guests to gather around. They fit with a country and festival style wedding.
Poseurs are simple tall tables ideal for use at wedding receptions. Poseur sets include four seats within the tall table, neatly stored. This is great if you want some casual places to sit down at a wedding reception or if you are offering late night food and don't want to keep dining tables up.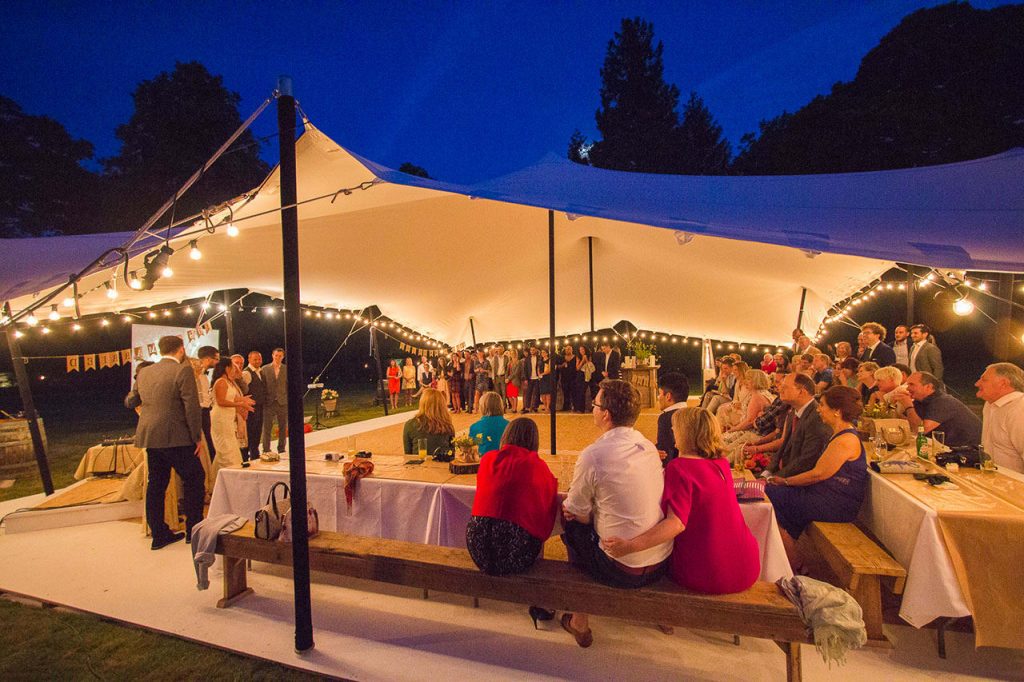 Accessories & Soft Furnishings
Once you have made the broad design choices for your stretch tent, you can move onto the wedding tent decorations. Accessories and soft furnishings can be used to define the spaces, create a sense of comfort and evoke your wedding theme.
Rugs
Rugs are a good way to mark out lounge areas and create a soft area of flooring, covering wood flooring or matting. Your guests will thank you if they get to take off their shoes and settle onto a soft rug.
There are plenty of rug choices to pick from, including patterned rugs, rustic style and single tone rugs.
Cushions
Cushions can be colour and style matched with your theme, helping to tie everything in your wedding stretch tent together. Choose from patterned, decorative, patchwork, single tone and other varieties.
You can add cushions to wooden chairs to make a soft seat for your guests during the ceremony or wedding breakfast. Square cushions are great for lounge areas, as scatter cushions on sofas or piled on rugs for a more relaxed vibe. Bench seat cushions are ideal for making your benches a little more comfortable.
Throws and blankets
For autumn or winter weddings in stretch tents or summer celebrations when you might have sides-up on your stretch tent, having a few throws and blankets dotted around will be great for guests who feel chilly later in the evening.
Heating
Heating is often more of a practical consideration than a style one. Industrial heating options and heat lamps will allow you to stay cosy in your stretch tent even in the coldest parts of winter.
Fire Pits
Fire pits can be placed outside the wedding tent to create areas for guests to gather in the early evening or during breaks in the wedding reception.
Patio Heaters
Patio heaters are useful for creating warmth on a chilly afternoon or at night outside your stretch tent. Pyramid patio heaters are slightly more stylish with a visible flame and more elegant shape than standard patio heaters.
Finishing Touches
No doubt you will want to include some unique and personal touches to your wedding tent decorations to make your celebration your own. Some ideas for finishing touches include:
Drapes and linings – using drapery can create sections within your tent, or be used to craft elegant backdrops for the ceremony or wedding breakfast.
Floral arrangements – often used as table decorations, or tall posts with small trees or flowers can be placed around your wedding tent, or at the entrance to welcome guests.
Hanging installations and signs – chalkboard signs with the marrying couple's names or signs pointing to the bar, lounge and other areas of your stretch tent can be affixed to poles within the tent.
Photo backdrops – pop-up backdrops, supported by the soft glow of fairy lights, can offer an extra special photo opportunity for wedding guests.
Vintage props and accessories – vintage markets can offer a whole range of unique extras, from crates to use as side tables to vintage signs and lamps to add to the ambience of your wedding stretch tent.
Find Out More About Wedding Tent Decorations & Extras
At Stretch and Tents we can provide a range of wedding tent decorations and extras to create the perfect space to celebrate your special day.