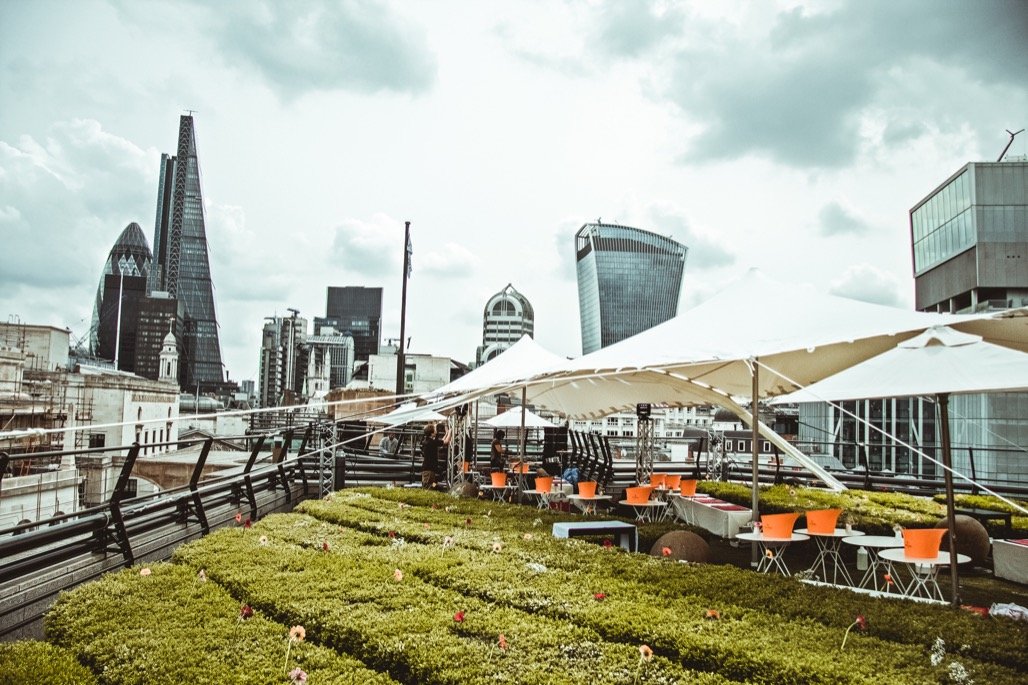 What to bear in mind for rooftop stretch tents
8 key things to bear in mind when planning a rooftop structure using a stretch tent (boring but very important!):
We need building access for delivery. It may seem like an obvious point but we often work in London and find the client hasn't realised that there is a no loading or unloading restriction on the street outside the building. This makes getting our kit to just the ground floor a challenge.
Lifts have size restrictions. The roof terrace tends to be on the top floor so we need to use the lift to get the tent kit upstairs. Using the staircase can be a health and safety hazard, not to mention rather tiring for our poor riggers if we are going up to the 20th floor! Therefore knowing your lift size is important, but don't forget we can use the diagonal length to fit poles in too.
Lifts have weight restrictions. How many loads is it going to take to get the kit up there? In order to get the rig up and assembled in good time, we need to know how much can be taken in each load.
We need to be aware of lift access restrictions. Often we can't load during work arrival / departure times, meaning you'd need to book delivery and removal times that comply with any venue restrictions for their lift.
Rooftops & terraces have weight restrictions too. We need to know these as we will have to use multiple weighted ballast as anchor points when we get up there. Each anchor point can weigh as much as 600kg or even more!
We need access to water sources and disposal drains for water ballasts. It is preferable, when using ballasts on a rooftop, to use water ballast containers as they are relatively light to carry when empty and then filled up on location. Therefore we need access to a tap and we have to know what the buildings water disposal restrictions are as we may need to get rid of several tons of water.
We need to know if weighted ballasts are needed. If there is no tap or water drainage access then we can't dispose of large quantities of water, so we would have to use concrete weights. These are trickier to manoeuvre as they are heavier from the start, although they do come compartmentalised.
Don't forget about the wind factor. High buildings create wind tunnels that can be very powerful and taking that into account when planning your rig is all important for an enjoyable event with your stretch tent.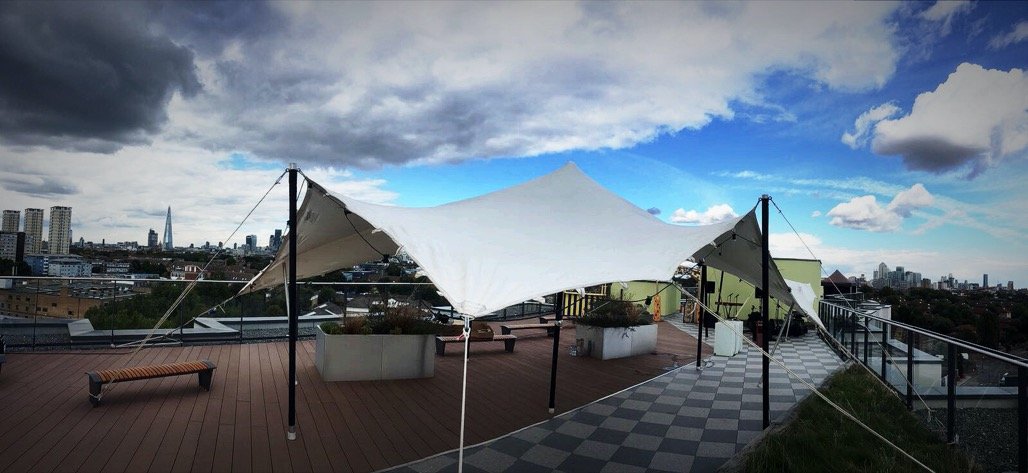 Good planning leads to great rooftop events
It might sound like a lot of preparation work, but it is definitely worth it as then you will know if you can go ahead or not. We do long term installations as well as short term, throughout the summer and the winter so the possibilities are endless as long as you meet the criteria for a safe build. We love helping our clients make the most of their unique spaces.
Get in touch with our sales team [email protected] for a consultation or call us on 020 7097 1875.
Find out more about hiring stretch marquees for parties.